BENEFITS OF KAPIVA UJJWAL MASALA CHAI
Our black CTC tea is infused with 15 Ayurvedic herbs and spices that have rejuvenating effects.
Tulsi is a potent adaptogen that helps promote calmness.
Mint is a refreshing herb that can help boost your resilience to stress. Nutmeg has a calming effect on the body and supports bowel movement.
Manjistha is antimicrobial and anti-inflammatory. Its blood purifying properties help flush toxins.
WHAT MAKES KAPIVA UJJWAL MASALA CHAI SPECIAL?
The Kapiva Ujjwal Masal Chai is a composition of 84% CTC tea and 16% Ayurvedic herbs and spices for optimal benefits. It helps support overall well-being.
Unlike regular Masala Chai, our tea has rejuvenating effects on the body that helps you stay afresh naturally.
The herbs along with tea leaves ooze an enriching aroma and flavour that enhances your tea drinking experience.
Made from 100% natural ingredients our product contains no added preservatives.
Key Ingredients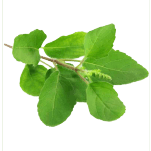 Tulsi
Also known as Holy Basil, the healing properties of Tulsi promote calm.
Mint
A refreshing herb, Mint relaxes the digestive system.
Manjistha
A famous herb for blood detoxification, Manjistha flushes toxins out of the body.
Nutmeg
A valued spice, Nutmeg has calming effects on the body and supports digestion. 

Cardamom
The cooling effects of Cardamom can support the health of the gastrointestinal tract.
HOW TO USE KAPIVA UJJWAL MASALA CHAI?
Add 1 tsp (2g) of tea to a cup of boiling water (180ml).
Add sugar or milk if required & continue to boil.
Strain the leaves and serve hot.
Ujjwal Masala Chai | All-Season Wellness Tea | 150 gms
₹425