BENEFITS OF KAPIVA TANGY MASALA SUPERGRAIN OATS
A rich source of 4 supergrains namely Oats, Green Gram, Amaranth and Ragi, Kapiva Tangy Masala Supergrain Oats adds much needed wholesomeness to your daily breakfast.
Enriched with 3 Ayurvedic herbs namely Ashwagandha, Noni, and Spirulina, it takes care of your daily wellness. It provides wholesome Ayurvedic nutrition in a modern avatar!
Our oatmeal is an amalgamation of daily wellness and tangy taste. The tangy masala flavour will keep your senses working in top form!
It is also rich in Vitamin B1, B2, and B3, which are vital for health and wellness.
WHAT MAKES KAPIVA TANGY MASALA SUPERGRAIN OATS SPECIAL?
Cut, Pour, and Boil! It's that easy! 3 easy steps and your nutritious oatmeal is ready to serve.
Our oatmeal has 1.5X higher protein and 1.8X more fibre than any other 100g oatmeal. It has 4.6g protein and 3.8g fibre in every serving.
It does not have any harmful additives or artificial flavours. You get a serving of wholesome ingredients.
Whenever you're pressed for time, our oatmeal comes to your rescue. You can prepare it in as quick as 3 minutes.
Key Ingredients of Kapiva Masala Supergrain Mix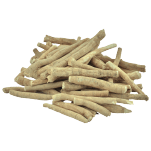 ASHWAGANDHA
Ashwagandha is an ancient Ayurvedic herb that supports energy levels without stimulating the heart. It also has stress combating properties which calms down the mind and body.
NONI
Noni, also known as Indian mulberry is a tropical fruit with multiple health benefits. It is well-known to boost energy levels.
SPIRULINA
Spirulina contains high levels of iron, thus increasing the production of red blood cells that promote the circulation of oxygen and gives an instant energy boost. The antioxidants present in Spirulina are also responsible to invigorate the body.
How to use Kapiva Masala Supergrain Mix
Empty one sachet of Kapiva Tangy Masala Supergrain Oats into a bowl.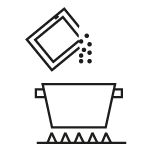 Measure water till the dotted line on the pouch and pour it into the bowl.
Heat it and allow it to cook for 3 minutes.
Kapiva Tangy Masala Supergrain Oats for Daily Wellness
₹265