Benefits of Kapiva Diabetes Care Combo
Assists with Diabetes: Containing a mix of potent herbs that are known to alleviate the symptoms of diabetes, this combination helps regulate the blood sugar levels.
Keeps Hyperacidity In Check: This combo helps to normalize the digestive system, making it easier to keep the problems of acidic reflux in check.
Purifies blood and helps cleanse all the infections while building immunity as well to keep cold and cough at bay
It has a few active substances with anti-diabetic properties like charantin and a compound called Polypeptide-p to control diabetes naturally. These substances either work individually or together to help regulate blood sugar levels.
What Makes Kapiva Diabetes Care Combo Special?
Pure ingredients: We believe that to get the right nutrition, we need to source ingredients from where they're available in their most rich form.
Kapiva Karela Jamun Juice is made from fresh Karela and Jamun seeds (instead of pulp), which contain all the nutrition of the fruit.
Our juice contains 90% raw herbs, not extracts. We employ the traditional Vedic process – the fruits are added to 16 parts water and boiled for 8 hours until the liquid content is reduced to 1/4th of its original volume, which is the perfect proportion for maximized benefits.
A combination of 16 potent herbs in dia free capsules along with Ayurvedic juice of karela jamun make this combo a natural healthy way to manage diabetes
Key Ingredients
Karela
Bitter gourd contains important nutrients ranging from iron, magnesium and vitamin to potassium and vitamin C. An excellent source of dietary fiber, it also contains twice the calcium of spinach, beta-carotene of broccoli, and the potassium of a banana.

Jamun Seeds
Jamun seeds contain compounds called jamboline and jambosine that reduce the rate at which sugar is released into the bloodstream. Jamun seeds also increase the production of hormones that regulate blood sugar levels.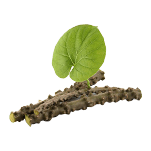 Giloy
Giloy may burn excess glucose, which further helps in reducing blood sugar levels. It also acts as a hypoglycemic agent that helps manage diabetes.

Turmeric
Turmeric root extract can help in reducing resistance of hormones that regulate sugar that cause a rise in blood sugar levels. It also improves the functioning of beta cells, which are beneficial for diabetes.
How to use Kapiva Diabetes Care Combo
Add 20-30 ml Karela Jamun Juice in a glass of water
Add honey or salt to taste and consume daily twice before meals
Take Dia Free capsules daily twice 10 minutes before meal(2-3 capsules as recommended by physcian)
KAPIVA DIABETES CARE
₹628