BENEFITS OF KAPIVA TADKA MASALA SUPERGRAIN MIX - PROTEIN ACTIVE
Kapiva Tadka Masala Supergrain Mix has the goodness of 3 ayurvedic herbs namely Brahmi, Kaunch beej, and Turmeric. All these herbs enhance your energy levels and endurance.
Our protein meal also has the power of 3 supergrains namely Oats, Green gram (moong), and Ragi. It has 2.5x higher protein and 1.25x more fibre than 100g poha, upma, and oatmeal.
With 10g protein in every serving, protein active provides adequate protein intake. It enhances your overall muscle building and improves physical performance. Consume this meal daily and fulfill 16.6% Protein RDA
Made with the goodness of whole grains and Ayurvedic herbs, this meal acts as a great pre-workout meal. It gives you a much needed energy boost ahead of an intensive gymming session.
WHAT MAKES KAPIVA TADKA MASALA SUPERGRAIN MIX SPECIAL?
Cut, Pour, and Boil! It's that easy! 3 easy steps in as quick as 3 minutes and your nutritious Ayurvedic breakfast is ready to eat.
The spicy tadka masala flavour of this meal will tantalize your taste buds. Taste, health, and energy - our high protein meal has them all in abundance!
It does not have any harmful additives or added sugar. Only the pure goodness of Ayurvedic herbs for optimal fitness.
This meal enhances your fitness levels and overall well-being without providing any sugar overload.
KEY INGREDIENTS IN KAPIVA SUPER GRAIN MIX PROTEIN ACTIVE
Kaunch Beej
Kaunch beej is the seed of Kapikacchu herb which has numerous health benefits.
It is rich in antioxidants and protein that boost your stamina.
Brahmi
Brahmi, a unique ayurvedic herb is also regarded as an energy booster.
It also helps in improving immune response to various ailments.
Turmeric
Turmeric, also known as Haldi, has anti-inflammatory properties.
It can prevent inflammation and muscle damage.
HOW TO CONSUME KAPIVA TADKA MASALA SUPERGRAIN MIX PROTEIN ACTIVE?
CUT - Open one sachet of Kapiva Masala Supergrain Mix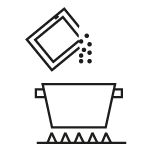 POUR - Empty sachet contents into a pan (for stove) or bowl (for microwave).
BOIL - Heat on stove or microwave and cook for 3 minutes with water.
Kapiva Tadka Masala Supergrain Mix - Protein Active
₹349